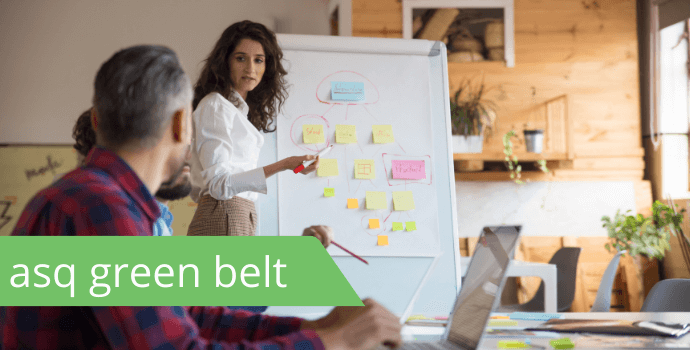 Who is this ASQ Six Sigma Green Belt Training Designed for?
This ASQ Six Sigma Green Belt programme is designed for teams with some experience working on process improvement projects.
We deliver training to your team on dates that work best for your schedule, either live online or in person at your location.
Download Brochure
Get a Quote
5 Benefits of this ASQ Six Sigma Green Belt Training
Here are some of the key benefits your team and organisation will gain from completing an in-company ASQ Six Sigma Green Belt training programme.
Develop Your Team's Process Improvement Capabilities

Over the course of 6 days, this programme's syllabus delves into the DMAIC Cycle, working to enhance the process improvement skills they already possess.

As a result, your team will be capable of delivering higher levels of sustainable savings and improvements.

Intensive Exam Preparation

Each module of the programme is rounded off with sample exam question and answer sessions. This helps to get each participant in the right frame of mind for the ASQ examination.

Feedback & Advice from Expert Trainers

Our trainers have extensive experience working with process improvement projects in a wide variety of industries.

They have delivered lean six sigma training at every level to teams in all sectors.

365-Day Access to Exam Simulator

The format of this programme is comprised of 6 days focused training, followed by a self-directed study and learning.

During the self-directed period of the programme, each participant will gain full access to an online ASQ exam simulator to maximise their learning potential.

Tailored for Your Team & Business

This is an in-company programme, meaning we deliver it exclusively to teams or departments from a single team, department, or organisation.

This format enables us to focus the content around situations and challenges particular to your team or organisation.
Course Overview
What is Covered?
For Individuals
FAQ
Download your Free ASQ Six Sigma Green Belt Training brochure
Download our PDF brochure to learn more about this ASQ Six Sigma Green Belt Training. Our course brochure includes:
Detailed course content outline
Key benefits & objectives
More information about eligibility requirements for this course
Path to ASQ certification
We will also get in touch to make sure you have all the answers you need about ASQ Six Sigma Green Belt training.
Download Brochure