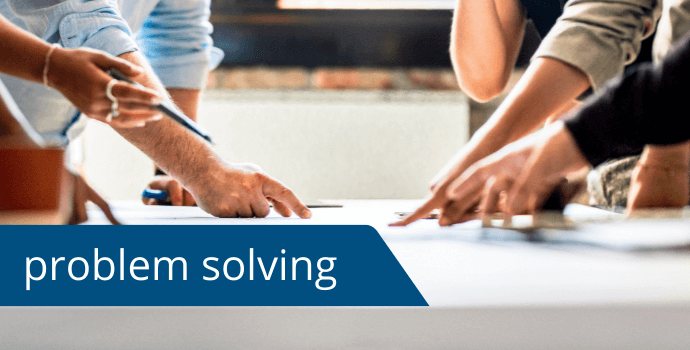 Who Attends this Lean Problem Solving Training?
Anyone who will be involved with tackling ongoing challenges and process improvement within your business will benefit greatly from this training.
It is also an excellent workshop for directors and those in other leadership positions.
Download Brochure
Get a Quote
4 Key Benefits of this Lean Problem Solving Training
Tried-and-Tested Problem Solving Methods

Lean has been in use for a long time. Its methods and approaches for problem solving have been tested and fine-tuned over the past decades.

When you implement lean problem solving methods, you're using proven formulas for efficient problem solving.

Process Improvement Tools

This training covers a number of foundational lean tools, which your team can begin to utilise immediately within your business.

When these tools are applied correctly, they can streamline and greatly improve existing processes.

Potential for Savings & Increased Profits

Improvements to processes and sustainable solutions to problems lead to time and money saved, less wasted resources, and in time, better profitability.

Option for Further Development

This workshop can be delivered on its own or as part of a more comprehensive continuous improvement programme for your team.

For example, you may wish to pair it with our FMEA Training or a Process Mapping Workshop. We can advise on the best solution for your organisation when in the planning or review stages of your workshop
Course Overview
What is Covered?
For Individuals
FAQ
Download your Free Lean Problem Solving Training brochure
Download our PDF brochure to learn more about this Lean Problem Solving Training. This brochure includes:
Course content outline
Key benefits of implementing lean principles
More information about how we deliver this course
Public lean six sigma course alternatives
We will also check in with you to make sure you have the answers to any questions you have.
Download Brochure