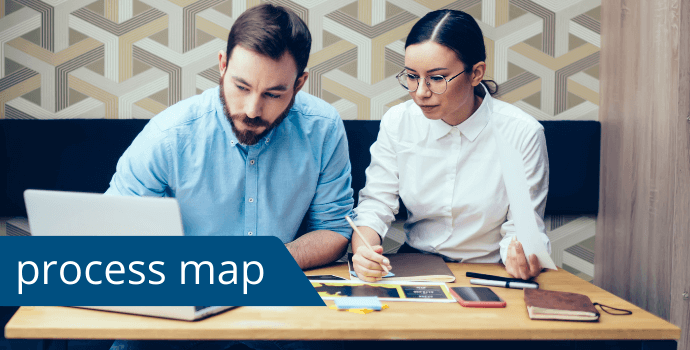 Who Attends Process Mapping Training?
This workshop is only available for in-company (on-site) training where we deliver training exclusively to a team or department from a single organisation.
There are no eligibility requirements for this training, but we recommend including anyone who will be involved with process improvement for your business.
Download Brochure
Get a Quote
4 Benefits of this Process Mapping Training
A Structured Approach to Process Mapping

Our workshop looks at the different types of process maps and their benefits, helping your team to develop the right approach for your organisation.

Throughout the workshop, our trainer will work with your team to decide on the best structure for your process mapping needs.

Active Work on Live Processes

While not essential, it is hugely beneficial to use an active example of a process you would like to map.

This way, the approach you choose becomes more relevant and you gain the added benefit of a training programme with constructive work on your business goals.

Advice & Guidance from an Experienced Practitioner

Our trainers have a wealth of experience with lean and six sigma practices, including process mapping.

They will guide your team each step of the way, advising on the most efficient options for your process mapping techniques.

Options for Development

This course is available as a standalone lean six sigma training or as part of a combined programme for continuous improvement.

For example, you could pair this workshop with Lean Problem Solving or with FMEA Training.
Course Overview
What is Covered?
For Individuals
FAQ
Download your Free Process Mapping Training brochure
Download our PDF brochure for more information about this Process Mapping Training. Our brochure includes:
Detailed course content outline
5 benefits of process mapping
More information about how we deliver this course
Details on our public course options
We will also check in to answer any questions you may have about process mapping and lean six sigma training.
Download Brochure