Understanding Lean Six Sigma Certification
We know that certification is often an important factor when choosing any type of training. It can certainly be a top priority where lean six sigma is concerned.
Bearing that in mind, we have chosen lean six sigma certifications that are relevant and hold weight in today's competitive economy.
Certifications We Offer
Our courses lead to different certifications, depending on the subject and your focus.
You will find more detail on the certification associated with your chosen course in the programme's brochure. A PDF copy of each brochure can be downloaded instantly on each course page.
Here is a quick introduction to some of the certification providers we work with:
ASQ

The American Society for Quality (ASQ) is known as a world leader in championing excellence and quality in six sigma certification and standards.

Our Lean Six Sigma Black Belt programme is designed to prepare delegates to pass the prestigious ASQ Certified Six Sigma Black Belt (CSSBB) exam and achieve ASQ certification.

QQI (Formerly FETAC)

The agencies of FETAC, HETAC and NSAI have been combined to form Quality and Qualifications Ireland (QQI).

QQI is responsible for maintaining the National Framework of Qualifications (NFQ).

QQI certifications have long been established and respected in Ireland and the UK, and are increasingly respected on a worldwide scale.

Professional Development

As a lean six sigma focused part of Professional Development, we are delighted to include Professional Development certifications as part of our yellow, green, and black belt programmes.

Professional Development has been delivering training to clients throughout Ireland and farther afield for 33 years.

For more than a decade, we have specialised in delivering lean six sigma and process improvement programmes of exceptional standards.
Which Certification is Right for You?
There is no "best" lean six sigma certification. Rather, there is the best training and certification that supports you in achieving your current goals.
If you're beginning your research, you may be deciding between a yellow, green, or black belt. Perhaps the following summaries can help:
Looking for an introduction to Lean Six Sigma? Choose Yellow Belt…
This is a 2-day course, ideal for anyone who is new to lean six sigma.
It covers the fundamentals of lean with an introduction to six sigma. Participants will come away with skills they can begin to utilise in their work immediately.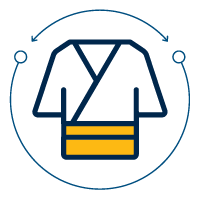 Want a confident knowledge and capability with Lean Six Sigma? Choose Green Belt…
Lean six sigma green belt is our most popular and frequently-run course.
It is also suited to beginners and those with some background in continuous improvement.
Participants achieve an in-depth understanding of lean six sigma and how to apply it to their work.
They also gain two lean six sigma certifications: a Professional Development green belt and a QQI qualification in Lean Manufacturing Tools.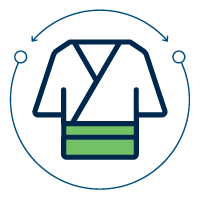 Seeking an advanced Lean Six Sigma qualification? Choose Black Belt…
This programme is for those who are experienced with process improvement. It therefore has some eligibility requirements.
Our black belt training covers advanced lean six sigma knowledge and capabilities. It leads to a Professional Development black belt and an ASQ Certified Six Sigma Black Belt (CSSBB).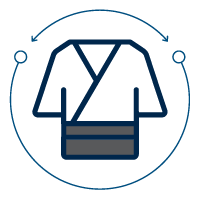 How You Can Get Certified
The path to certification differs with each course.
You can read a detailed guide to certification in each course brochure, but here is a high-level synopsis:
To achieve your yellow belt, you will complete an open book exam during day two of training.
For green belt, you must successfully complete assessment work in the 8 weeks following training.
For black belt, you must complete a project in the 8 weeks following training and successfully sit and pass your ASQ Certified Six Sigma Black Belt exam.
Get Advice for Your Lean Six Sigma Certification
If you're not sure where to begin with your lean six sigma certification, we can help.
Our consultants have plenty of knowledge and experience with these programmes and their accompanying certification. They can offer advice and insights into the right fit for your current goals.
You can reach us by phone (Freephone 1800 910 810 or Dublin 01 861 0700) or ask a question online.