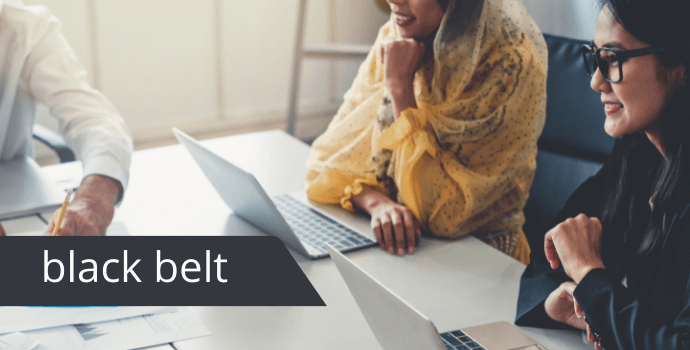 Why Achieve ASQ Certification?
Gaining an international Lean Six Sigma Black Belt certification like the ASQ CSSBB is the mark of a capable, experienced process improvement manager.
It identifies you as a proven lean six sigma professional to colleagues, employers, and customers.
Download a Brochure
Get Upcoming Dates
5 Key Benefits of this Six Sigma Black Belt Training
If you're considering black belt certification, you will most likely be very familiar with the benefits of implementing lean six sigma, and your decision will rest with the best training provider to suit your needs.
Here are some reasons why our course works for those seeking an international lean six sigma black belt certification.
A Complete Exam Prep Solution (Sigma XL and ASQ Exam Simulator Included)

Our Lean Six Sigma Black Belt programme has one clear, inclusive price for your training and exam preparation.

We include 14 days of classroom training, essential Sigma XL software, all course materials, and a 365-day access to an online ASQ exam simulator in this price.

International Lean Six Sigma Black Belt Certification

This course leads to an internationally recognised, ASQ Certified Six Sigma Black Belt (CSSBB) qualification.

ASQ (American Society for Quality) is a global leader in maintaining quality and consistency in training and certification across the international lean six sigma community.

Aligned with Global Best-Practices

We have aligned the content of this black belt programme with the ASQ Black Belt Body of Knowledge (BB BoK).

Training Delivered by Expert Black Belts

Our trainers combine their hands-on experience working as black belt consultants with a practical, approachable training style. Throughout the course, you will benefit from their knowledge, guidelines, and advice.

Focused, Convenient 14-Day Format

We have designed this course to fit into your schedule. Training days are spread in short, focused bursts over 5 months.

Months 1 – 4 have 3 consecutive days each, while month 5 has 2 consecutive days.

The objective is to keep an intensive training format of consecutive days, without forcing you to block off a full calendar month or take prolonged absences from current projects and tasks.
Course Overview
What is Covered?
For Teams
FAQ
Download your Free Lean Six Sigma Black Belt Course brochure
Download our PDF brochure to learn more about this Lean Six Sigma Black Belt Course. Our brochure includes:
Detailed course content outline
Key benefits & objectives
More information about how we deliver this course
Guidance on achieving your qualification
We'll also send you our full course schedule and check in to answer any questions you have.
Download Brochure