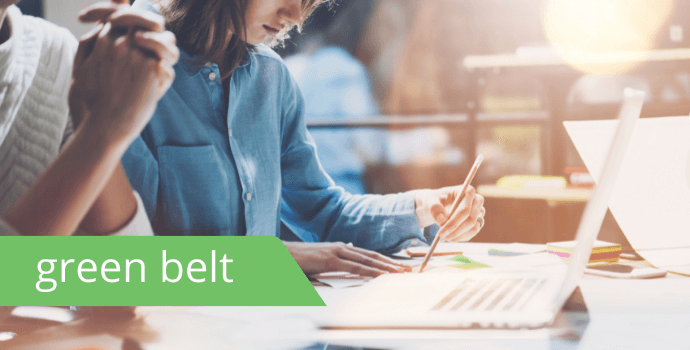 Who Attends This Lean Six Sigma Green Belt?
We recommend this programme for anyone who is interested in gaining confidence with process improvement.
The skills and knowledge covered during this course are not industry specific. This means that they are relevant and can be applied in all sectors.
You don't need any previous experience with lean or six sigma to attend this course.
Download Brochure
Get Upcoming Dates
5 Key Benefits of this Lean Six Sigma Green Belt Course
There are many benefits to attending this course – we could go on for quite a while! Instead, we have listed our top 5 here for you:
Get to Grips with Lean Six Sigma

If you're new to lean six sigma or have limited experience with it, the terminology and implementation can seem daunting at first.

This course gives you a solid foundational knowledge in Lean Six Sigma, breaking it into practical, digestible chunks.

Gain Confidence to Implement

We know that it's one thing to attend a course and come away with a theoretical knowledge of a subject, and it's another to feel ready to put your new skills into practice.

Our goal is to blend theoretical and practical learning, so that once the course is finished, you will feel ready to get started using lean six sigma in your working environment.

Achieve a Respected Certification

There is no denying that certification is important.

New and potential employers need proof that you can do what you say you can. Existing employers want assurance that your training has met certain criteria.

Participants on this course will achieve two certifications. You can learn more about the certifications you will receive in our PDF course brochure or the "Course Overview" tab below.

Begin Delivering Savings and Improvements

We are interested in delivering training that makes a difference to your working environment.

The skills you gain from attending this lean six sigma green belt course will help you to begin transforming things where you work by improving processes and delivering sustainable savings.

Advice and Helpful Feedback from Qualified Black Belt Trainers

Our trainers bring their extensive experience working as Black Belt consultants to the delivery of each course.

They will advise you on the best approaches to different projects, and provide feedback as the course progresses.
Course Overview
What is Covered?
For Teams
FAQ
Download your Free Lean Six Sigma Green Belt Course Level 5 brochure
Download our PDF brochure to learn more about this Lean Six Sigma Green Belt Course Level 5. Our brochure includes:
A full outline of the programme content
Key benefits & objectives
More information about how we deliver this programme
Achieving your certification
We will also send you our complete upcoming schedule and make sure you have answers for any questions you may have.
Download Brochure